Music of Portugal • Sunday June 13, 2021 3:00PM
Five Wounds Portuguese National Church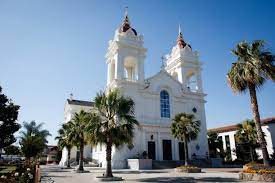 Experience live music again with the Mission Chamber Orchestra's FREE performance of Portuguese chamber music at Five Wounds Church in San Jose. Small ensembles from the orchestra present lesser-known works in an hour-long concert with no intermission to minimize gathering in enclosed spaces. All musicians are fully vaccinated and audience seats are widely spaced (chairs can be moved so small groups can sit together.) Audience members are required to wear masks and are asked to be fully vaccinated. Tickets, while free, must be reserved for this performance. For those who cannot attend, watch the simultaneous livestream at https://www.facebook.com/FiveWoundsPortugueseNationalChurch. The concert and livestream begin at 3:00PM. This concert is sponsored by the Portuguese Government in honor of Dia de Portugal.
---