Spring Rhapsody • Saturday April 27, 2019, 7:30pm
Trianon Theatre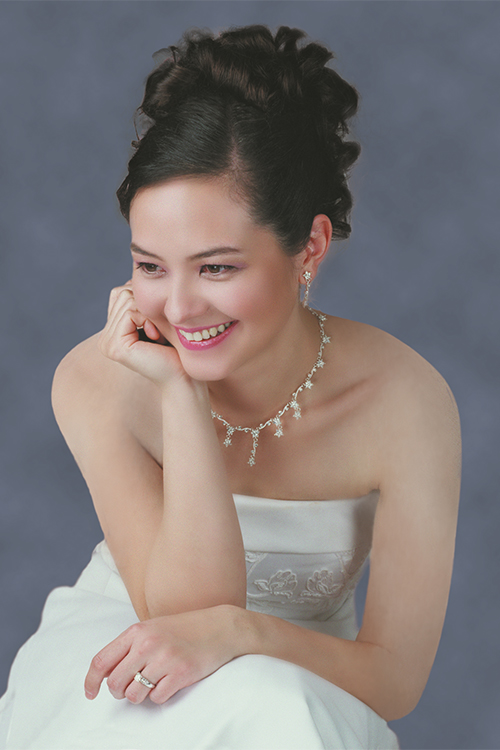 Sandra Wright Shen, Pianist
John Rutter  Suite for Strings
Gershwin  Rhapsody in Blue
Mendelssohn  Rondo Brillant, op. 29
Sibelius Excerpts from Pelleas and Melisande Suite, op. 46
Haydn Symphony no. 82, "L'Ours"
Points of interest:
John Rutter's music is so popular in Britain he was commissioned to write music for Queen Elizabeth's Golden Jubilee, and for the wedding of Prince William and Catherine Middleton
Rhapsody in Blue has become an American icon – it was performed simultaneously by 84 pianists at 1984 Los Angeles Olympic Games, and forms part of the branding for United Airlines
Haydn's Symphony no. 82 was premiered in Paris by mulatto conductor, Joseph Bologne, Chevalier de Saint-Georges. The low notes starting the last movement inspired its nickname, "The Bear"
Buy Tickets
---
Mollicone and Mendelssohn • Sunday May 19, 2019, 3:00pm
Heritage Theatre, 1 W. Campbell Ave., Campbell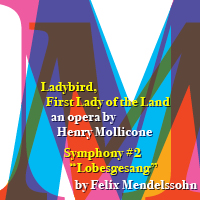 Mission Chamber Orchestra of San Jose, San Jose Symphonic Choir, Bay Shore Lyric Opera
Lady Bird:  First Lady of the Land by Henry Mollicone,
libretto by Sheldon Harnick (Fiddler on the Roof)
Symphony no. 2, "Lobgesang" by Mendelssohn
Points of interest:
The Washington Post called Henry Mollicone "One of the most distinctive American opera composers".
Issues revolving around civil rights during the 1960's, when Lady Bird:  First Lady of the Land takes place, are still relevant today.
Mendelssohn's Symphony no. 2 was written in celebration of the 400th anniversary of the Gutenberg printing press. It consists of three purely instrumental movements and 10 short choral movements. Mendelssohn called it "A Symphony-Cantata on Words of the Holy Bible, for Soloists, Chorus and Orchestra".

Ticket prices are $30 general in advance, $35 at the door; $25 seniors, student, military in advance, $30 at the door.
Co-presented by San Jose Symphonic Choir and Bay Shore Lyric Opera
Heritage Theatre Box Office Information:
Hours:  Tuesday-Thursday 10:00am-4:00pm; Fridays 9:00am-5:30pm; Saturdays 9:00am-1:00pm
Box Office is also open 1 hour before showtime and closes 20 minutes after show begins
Box Office phone:  (408) 866-2700.
Phone orders:  VISA, Mastercard, and Discover accepted (no additional charge).
Tickets are mailed to the customer.
Tickets will only be held at Will Call during the week prior to the performance.
Additional $5.00/tickets for tickets purchased online.
Buy Lady Bird Tickets
---
Music of Portugal • Sunday June 9, 2019, 3:00PM
Five Wounds Portuguese National Church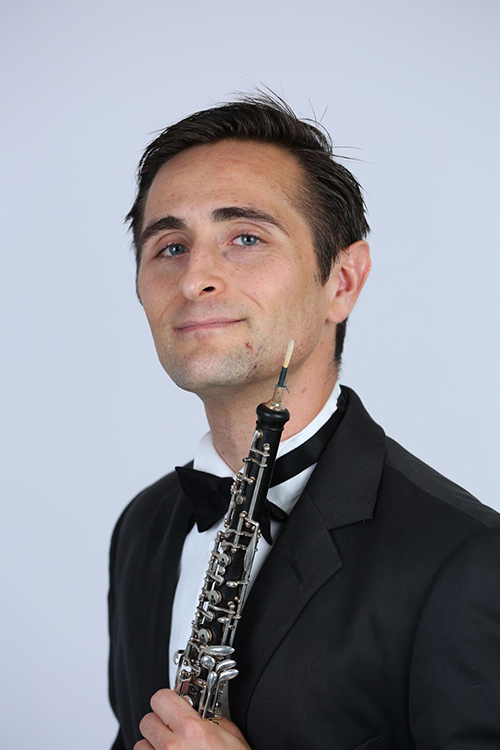 Robert Scott, Oboist
Sérgio Azevedo  Concertino d'Estate for oboe, strings, and percussion
Joly Braga Santos  Symphony no. 2
Points of interest:
Five Wounds Church was completed just a little over 100 years ago and built in the style of European churches.  In the mid-1920s, Italian-born and Vatican Gallery-trained Rev. Luigi Sciocchetti (1878–1961) was commissioned to paint the interior murals above the main altar. Father Sciocchetti had been banished from Italy by Mussolini and immigrated to San Jose in 1925.
Sergio Azevedo has written two concertos for oboe, a Spring concertino and a Summer concertino, and plans to write both Autumn and Winter concertinos, patterned on Vivaldi's Four Seasons for solo violin and strings.
Joly Braga Santos is considered the greatest of Portuguese symphonists and was also a critic and journalist for several Portuguese and foreign newspapers and journals.
Buy Tickets
---
Noon Arts & Lectures series features MCOSJ soloists on days prior to concerts.
• Meet featured artists in a casual setting and hear samples from their concert program explained and performed.
• Suggested $5 door donation.
• Student: Individual age under 25 with a valid student body card.
• Visit Noon Arts and Lectures